Professional Pest Control For Greenville, SC Property Owners
Right in the heart of South Carolina's Upcountry, the city of Greenville is perfectly located halfway between Charlotte, NC, and Atlanta, GA. That makes us a popular stop, and not just for humans. Pests are an issue that Greenville property owners must be prepared to face, and the only guaranteed way to protect yourself from an infestation is to call in a team of qualified pest experts. Luckily, you've come to the right place.
Greenville Pest Control is a local, family owned and operated company with over 25 years of experience in the world of pest control. Since 1994, we've been servicing homes and businesses throughout Greenville County and the surrounding areas, providing dependable pest solutions all year long. Customer satisfaction is at the top of our list, and we work hard to give you lasting, pest-free results that you can rely on. Get in touch with us today to get your free pest evaluation.
Home Pest Control In Greenville, SC
Your Greenville home is filled with pest attractants, meaning you and your loved ones are exposed to the dangers of household pest infestations. That's why we're here to protect you. Our residential pest control solutions give local homeowners complete coverage from a long list of common household pests. Some of the intruders we deal with include bed bugs, cockroaches, ants, spiders, birds, mosquitoes, rodents, fleas, ticks, stinging insects, and termites.
With all-natural products available, and customized solutions that are tailor-made to fit your needs, you can rest assured knowing that your safety and that of your loved ones are in good hands. We're proud to have serviced over 830 homes in the area, using trusted IPM (Integrated Pest Management) strategies to tackle the core of the infestation in a safe, efficient way. We're here to help you, no matter the pest problem. Reach out today to learn more.
Learn How You Can Save Your Greenville Home From Termites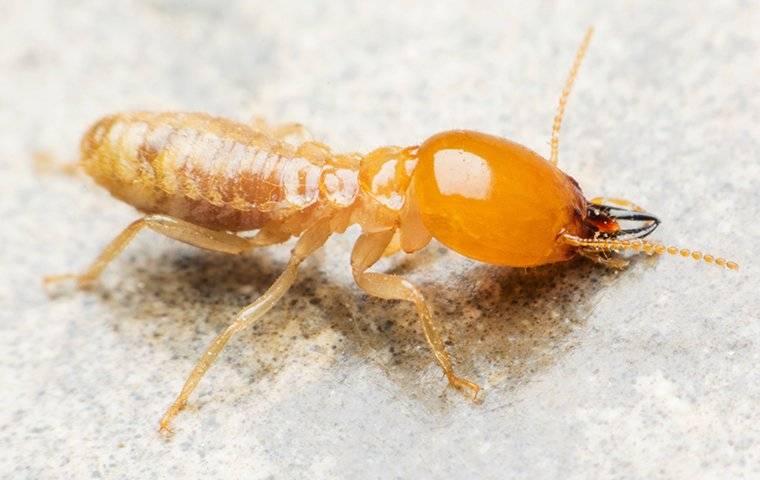 When it comes to termite infestations, it's important to keep in mind that even though they are small in size, they can cause large-scale consequences for your home.
The best way to save your Greenville home from the nightmare of a termite infestation is to be proactive in your termite control efforts.
Here are some helpful prevention tips:
Inspect all wood coming onto your property for termites.
Keep wood away from the perimeter of the foundation.
Put vent fans in moisture-rich areas of your house.
Reduce excess moisture around the property.
Remove moisture-damaged wood.
Use loose mortar around windows and doors.
For the best, most reliable termite prevention and control services in the area, look no further than the Greenville Pest Control team. We provide dependable, year-round protection from the devastation of termite damage, so give us a call today to address all of your termite control and prevention needs.
Three Telltale Signs You Have A Bed Bug Problem In Your Greenville Home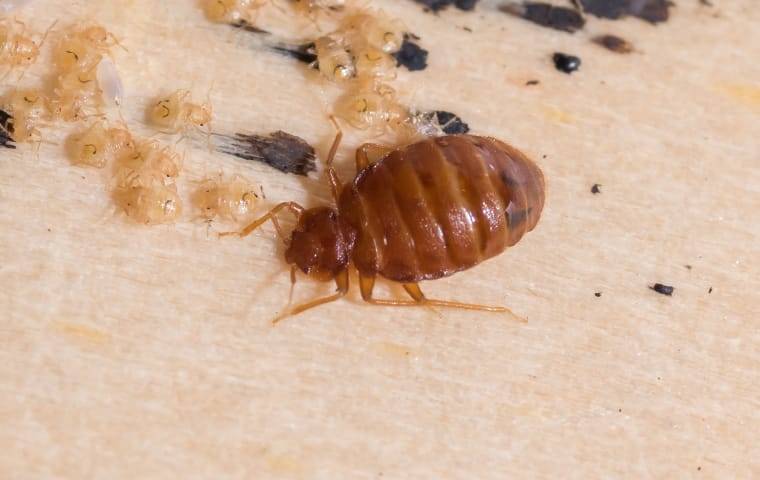 Bed bug infestations can escalate quickly until your entire house is affected. It's a large-scale nightmare that you should address immediately.
Spotting signs of bed bug activity is crucial in order to detect an infestation as soon as possible. The sooner you address the problem, the more likely you can prevent the infestation from spreading even further.
Here are three telltale signs indicating you have a bed bug problem:
Brown excrement spots on linens and bedding
Tiny, red bloodstains on linens and bedding
Little red bites that appear in a linear formation
If you notice any of these signs, there's no time to waste. Call Greenville Pest Control right away. We're here to address all of your bed bug control needs, and we guarantee pest-free results that give you the peace of mind to sleep through the night, undisturbed. Call us today to learn more.
Commercial Pest Control In Greenville, SC
If you own a business here in Greenville, we highly suggest you address your pest control needs sooner rather than later. Our commercial pest control services provide year-round coverage to over 320 local businesses. Our pest control process is thorough and personalized. It covers a wide range of services, including general pest control, rodent control, fly control, and bird control. This process includes the following:
Inspection
Meet with property manager for walk-through and consultation
Identification of active areas and conducive conditions
Review of potential suggested guidelines and treatment strategy for pest problems
Treatment
Sealing off entry points and making small exclusions to prevent pest access
Exterior pest treatment three feet up and ten feet out from perimeter of the foundation
Installation of ULV light traps and glue boards throughout the interior
We work with a variety of properties, some of which include warehouses, medical offices, nursing homes, restaurants, bars, strip malls, shopping centers, daycare, office buildings, and many others. We're also proud to service USDA/FDA facilities, state and local government facilities. Contact us today for all of your commercial pest control needs.
Why Mosquitoes Should Be Eliminated From Your Greenville Yard
Mosquitoes are parasites that carry diseases and viruses which they spread to their hosts. When a mosquito bites, it injects saliva into your bloodstream. When the mosquito is infected, it exposes you to these diseases, like Zika Virus and West Nile Virus, two of the most well-known vector-borne illnesses that mosquitoes spread through their bite.
Since there's really no way of knowing if a mosquito is carrying a disease or not, it's best just to keep them out altogether. That's why mosquitoes should be eliminated from your Greenville yard. While there are certain things you can try to reduce mosquito populations on your own, the only 100% effective way to protect yourself from mosquitoes is to rely on the pros. If you suspect a mosquito infestation, call Greenville Pest Control today. We're here to address all your mosquito control and prevention needs.
Four Signs Your Greenville Home Might Have A Cockroach Problem
Cockroach activity can cause serious contamination, which leads to all kinds of adverse health conditions. In terms of detecting cockroaches throughout your property, you should be on the lookout for any indications of roach activity so that you can address the infestation as soon as possible. Here are four signs your Greenville home might have a cockroach problem:
Active roaches crawling around your home
An unpleasant odor that is musky and pungent
Droppings throughout the home like egg casings and feces
Signs of chewing through/on food packaging
Noticing any of these signs usually indicates a larger cockroach problem. The best way to protect your property from cockroach infestation is to rely on a team of qualified pest professionals. Here at Greenville Pest Control, we offer year-round coverage from cockroaches and the dangers that come with infestation. Call today to learn more.
Don't Try To Get Rid Of Birds On Your Greenville Property On Your Own
Pest birds can be dangerous for a variety of reasons. Firstly, they leave droppings, feces, and urine around your property, contaminating your space and threatening your health. Not to mention the acid in bird urine can be damaging to metals and other surfaces.
Another danger of pest bird activity is the fact that they contribute to the buildup of debris that can cause mechanical failures. They clog gutters and drains, leading to destructive water damage. Also, they build nesting sites throughout your structure, which can cause damage to the property.
When it comes to pest bird control, don't try to get rid of birds on your Greenville property on your own. It can be hazardous, especially when you don't know the specific behaviors of the species you're dealing with and don't have the proper equipment to address the problem effectively.
At the end of the day, the most effective and most reliable approach to bird control is getting help from your local pest professionals. The team of experts at Greenville Pest Control knows how to deal with local bird activity, detecting and eliminating them from your property, and making sure they don't come back. Get in touch with us today to discuss your bird control and prevention needs. We're eager to bring you the pest protection you deserve.
Greenville Property Owner's Practical Guide To Effective Ant Control
Ants are small pests that infest in large numbers. An ant infestation is extremely frustrating because the sheer number of individual ants can be overwhelming. Being proactive is key, and that's why taking preventative measures is a good idea. Here is a practical guide to effective ant control for Greenville property owners:
Avoid leaving out pet food and keep it sealed away in plastic containers.
Fix any leaky or faulty pipes, faucets, drains, gutters, and downspouts.
Keep trees and shrubs trimmed and directed away from the house.
Keep your house clean and maintain proper sanitation.
Reduce sources of excess moisture and standing water.
Regularly take out the trash and store it outside in a sealed garbage can.
Seal up cracks and crevices along the foundation.
Store food in tightly sealed containers.
Wipe down counters and any traces of sticky food residue.
Wipe up spills and crumbs promptly.
While taking precautions is always a great way to go, the truth is that it's not always enough. Sometimes ants can be impossible to deal with on your own, and the good news is that we're here to deal with them for you.
If you're looking for quality ant control, look no further than Greenville Pest Control. We are a team of highly experienced pest professionals, and we guarantee the thorough elimination and prevention of ant activity. From start to finish, we're with you every step of the way. Reach out to us today to learn more about our ant treatments, and we'll set up your initial inspection as soon as possible.